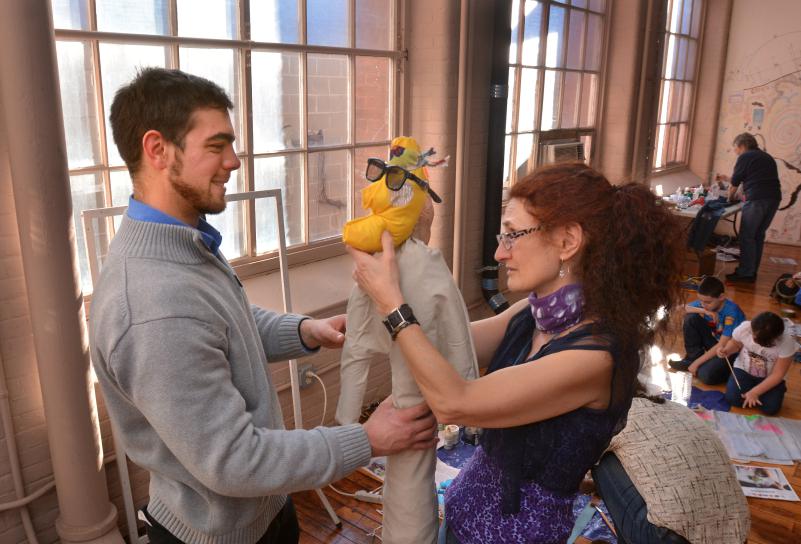 Puppet makers: A workshop by Caravan Puppets of Amherst
Friday, February 6, 2015 (Published in print: Saturday, February 7, 2015) JERREY ROBERTS Karen Schumer, of Caravan Puppets in Amherst, helps Ben Chase, of Hatfield, attach a the head of a puppet he was making during a body puppet workshop Saturday at Eastworks in Easthampton.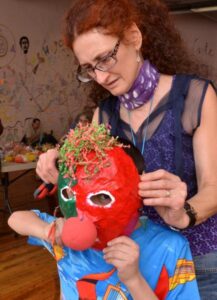 Friday, February 6, 2015 (Published in print: Saturday, February 7, 2015) JERREY ROBERTS Karen Schumer, of Caravan Puppets in Amherst, helps Christian Rodriguez, 9, try on his mask during a body puppet workshop Saturday at Eastworks in Easthampton
With show of hands, Pelham students endorse artists' puppet residency
By GENA MANGIARATTI
Gazette Contributing Writer
Friday, May 9, 2014
(Published in print: Saturday, May 10, 2014)
At Tuesday's event, attended by students, parents and staff, each class used puppets to perform a skit. Second-grade students acted out the Brothers Grimm tale, "The Bremen Town Musicians" — but added their own twists.
In the original story, four animals run away from their owners to become musicians. In the students' version, the animals' dream was to become not just musicians, but "rock stars." The final scene featured a disco ball, with the puppets chanting, "I love rock and roll."
Caravan Puppets was established by Amherst resident Jonathan Keezing in 1991. Since then, Keezing has performed throughout the country and in Japan, according to the company's website. He began residencies 15 years ago, and has done them in schools in Easthampton, Springfield, Chicopee and Greenfield.
This year, Caravan Puppets became a duo, with Keezing's wife, Karen Schumer, joining him full time after 17 years as an art teacher at Chestnut Accelerated Middle School in Springfield.
This was the first time Caravan Puppets did a residency at the Pelham Elementary School. It was made possible with a $5,000 STARS Residencies grant to the school from the Massachusetts Cultural Council, said Pelham Elementary School Principal Lisa Desjarlais.
A goal of the residency, Desjarlais said, was to integrate hands-on creative activities into the curriculum. She noted that while she has brought theater, dance and music groups to the school, the students do not often have opportunities to work with materials such as paints and papier-mache.
"This was a whole other venue that we hadn't explored," she said. "It helps to strengthen their learning when they're not just writing or reading, but singing or acting out or using their hands in a multisensory way."
Second-grade teacher Melissa Marchetti said she met with Keezing and Schumer at the beginning of the residency to discuss how the puppetry could be connected to the curriculum. They decided to tie it in with a language arts unit on folk tales, which led them to act out "The Bremen Town Musicians."
Marchetti recalled how her students were always excited to see "puppetry" on the schedule each week.
"It just allowed students a different outlet to display their knowledge and to display their artistic ability," she added. "That's always a wonderful thing because children don't all learn in the same way."
Third-grade teacher Meg Gallagher chose to integrate a science unit on simple machines into the puppetry. At the Tuesday performance, her students acted out a story they created about a group of animals that want a new video game, but need to go to Florida to get it. To do so, they build a simple machine that opens the door to a rainbow slide that transports them to Florida.
Gallagher said that after the show, her students came back to the room and said things like, "I want to do it again," "That was so amazing" and "I loved the unit so much. The only bad thing is that it's over."
Other activities her students especially enjoyed over the course of the residency included weekly impromptu puppet shows and a puppet procession through the school, during which the students sang, "We're in a puppet parade," Gallagher recalls.
"They responded beautifully to Jonathan and Karen, who have just such a lovely manner with children," she said. "They respect the children's ideas. Whatever the children came up with, they would figure out a way to incorporate them."
Keezing said he's found his wife's skills as a teacher to be an asset. "She has this innate joy with working with children," he said. "And they know it. They pick right up on it and they just love her."
Keezing, who is also a trained musician, said that puppetry is his favorite medium for working with children because it brings sculpture, drama and music together.
He develops the skits by asking the children questions such as, "Where are your puppets?" and "What problem occurs?" and then combining their ideas. He also taught the children performance techniques, such how to project energy into the puppets rather than just singing with the puppets in front of them, he said.
Desjarlais said she is exploring the possibility of bringing the residency back to work with the older grades. Pelham Elementary School enrolls students through Grade 6.
"It just reinforces my belief that it's important to bring outside groups to work within the school and reach out to those resources within the community," she said of the residency. "I certainly couldn't have replicated here the richness of what it offered for the students."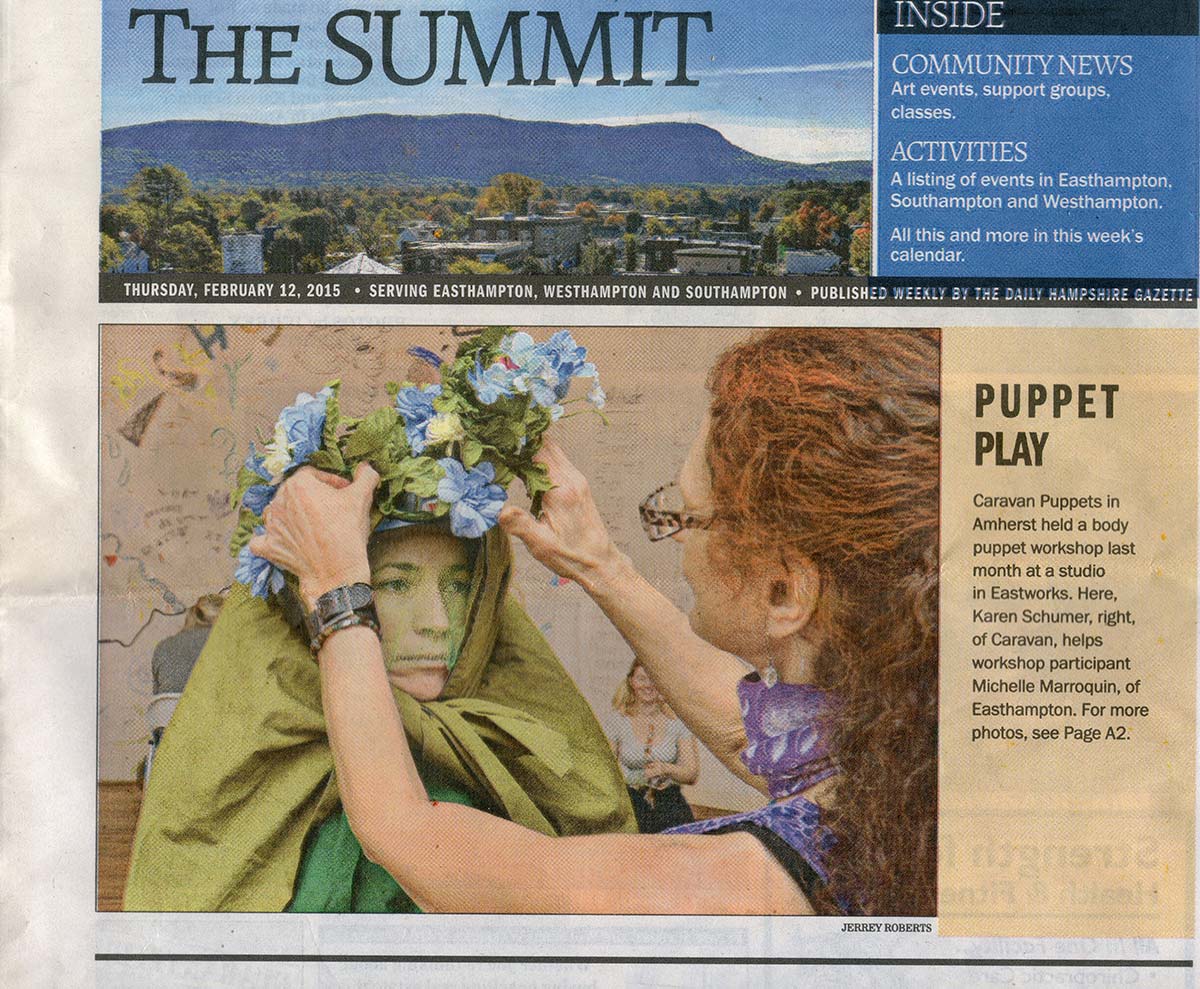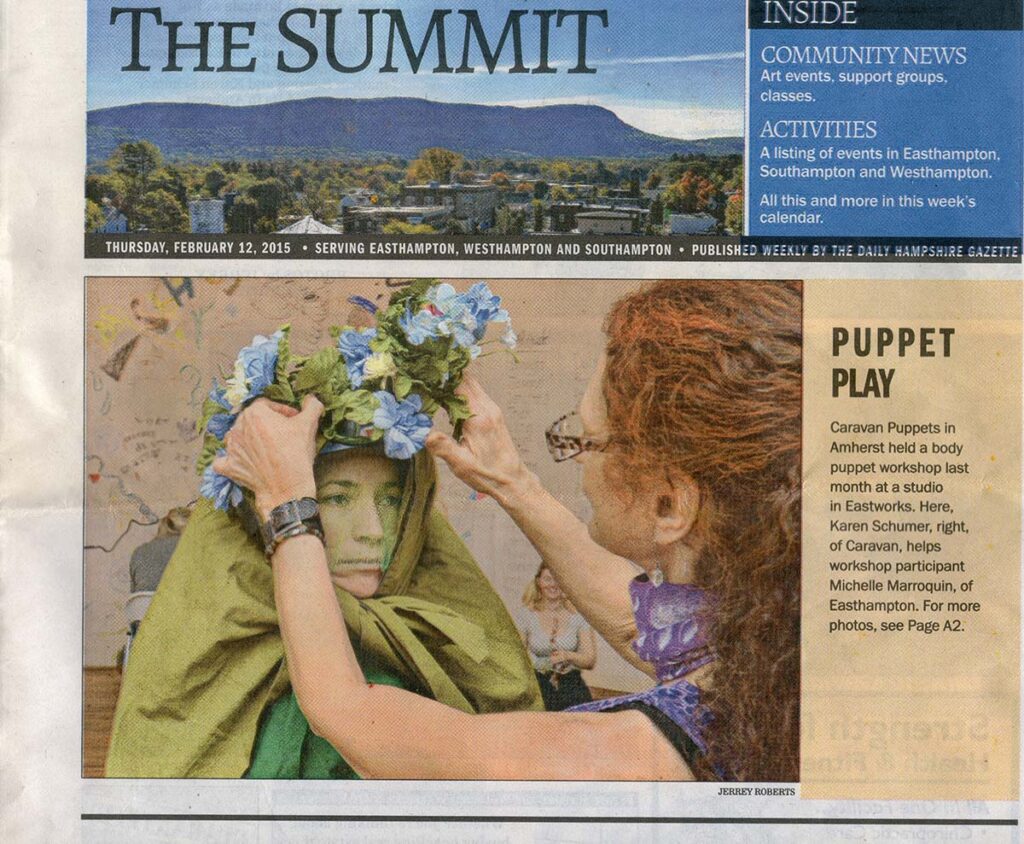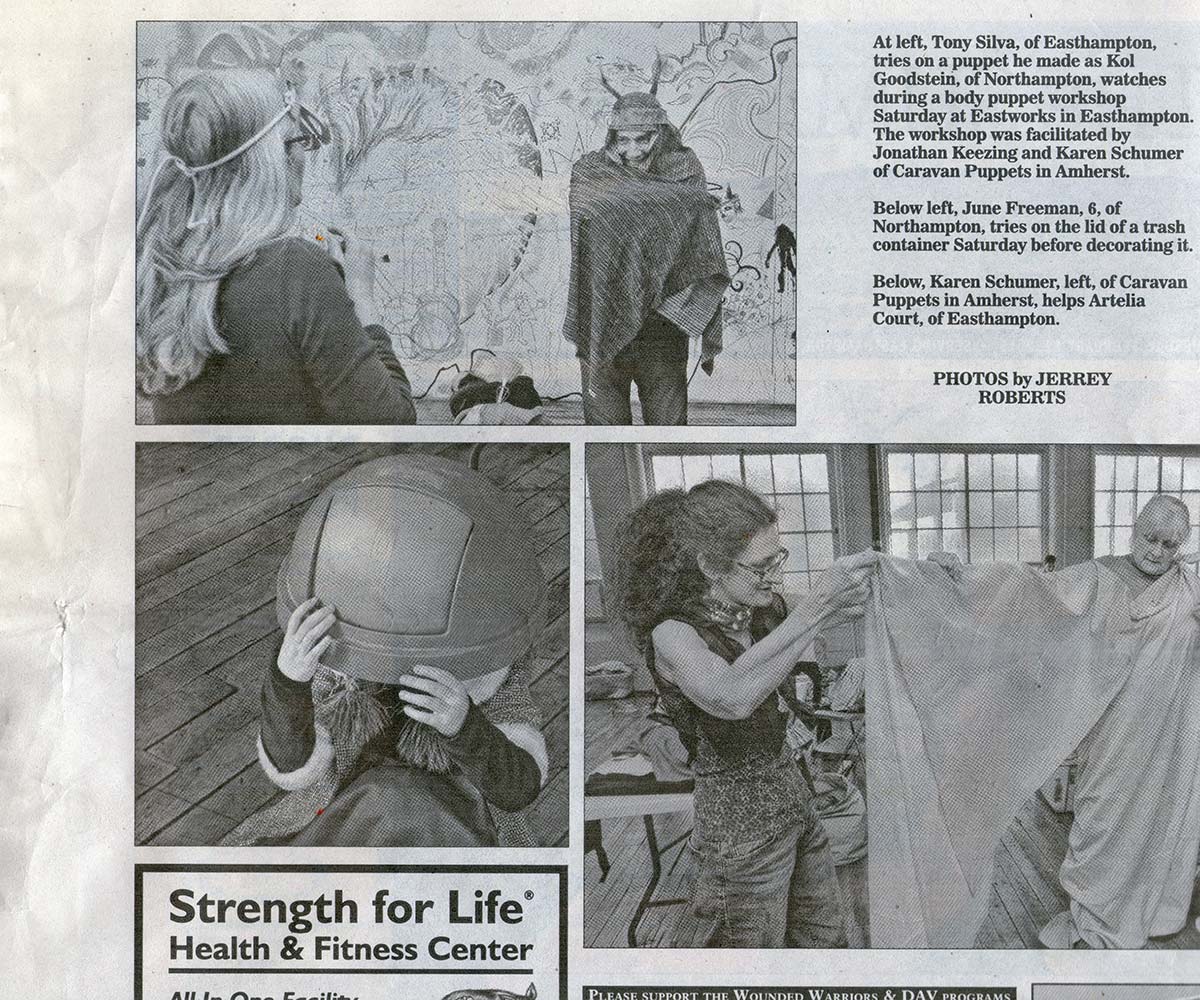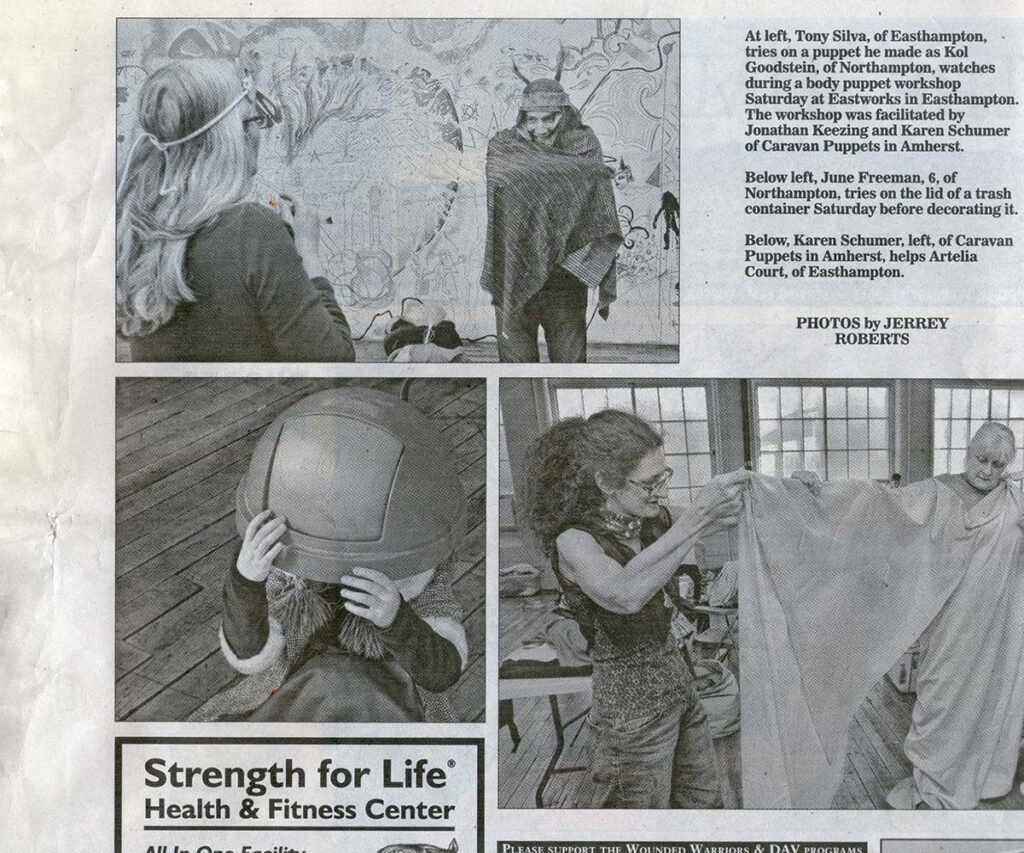 Bring Caravan Puppets to your community!
Caravan is a great fit for:a show or workshop most anywhere! All of our programs are kid-tested to entertain, enrich and inspire!

Please peruse our site and get in touch.